Do you wear eyeglasses?
I do. I have been near-sighted since I was seven. Sitting in my second-grade classroom, I felt scared because I could no longer see the letters that the teacher was writing on the chalkboard. I didn't know what was wrong, and was afraid to tell anyone that my vision was blurry.
Eventually, I told my teacher. Because my family had health insurance, I was able to get an eye exam. Soon, I could see the chalkboard again, thanks to my new prescription eyeglasses.
My eye doctor truly changed my life. In fact, I remain friends with him to this day, and it's been forty years since my first pair of glasses!
A vision for cocoa farmers
Most cocoa farmers in Ghana could not tell the same story. If a farmer has vision problems, she or he almost certainly will never be able to get an eye exam. Unlike me, most will never wear prescription eyeglasses.
Cocoa farmers walk every day on forest trails that have ditches and floods, stones and scorpions. If they can't see those dangers, they can't avoid them.
If a farmer is near-sighted, how can they see from a distance if a pod has marks of disease or pests? They will miss these signs that their farm needs to be treated or pruned.
For that matter, how can a farmer prune her trees well if she can't see the branches?
How can a farmer use his cutlass safely, or crack open pods with the necessary speed?
How can a farmer with poor vision see the numbers on the weighing scale when she brings her cocoa to sell?
There are so many everyday activities that cocoa farmers can't do easily if their vision is poor. And if they can't do their work well, their families suffer.
And, ultimately, Ghana's cocoa industry suffers.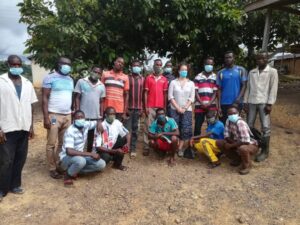 How can I help?
Won't you help by donating a pair of eyeglasses? Maybe your prescription has changed, or you have a spare pair. Donating them could change the life of a farmer. It could change Ghana.
I am working with ABOCFA cocoa cooperative, in Aponoapono village near Suhum, to distribute Eyeglasses for Cocoa Famers. Together, we will ensure your eyeglasses donations go to a farmer who needs them.
This year, we will distribute Eyeglasses for Cocoa Farmers on:
Farmers' Day, Friday, December 3
Any and all eyeglasses donations are welcome through 2 December. This includes sunglasses, magnifying lenses for reading, and children's frames. Please include a slip of paper with the eyeglass prescription, if you know it. Thank you.
Where can I donate my spare eyeglasses?
Donation boxes are located at several points around Accra:
Mint Club at Meridian Apartments (including Chen Zumba Ghana classes)
Alema Avenue, Airport Residential
Crosstrain gym & Auxiliary workspace
Fifth Circular Road, Cantonments
A donation box will also be available at the Ghana Cocoa Awards!
Friday, November 12
Kempinski Hotel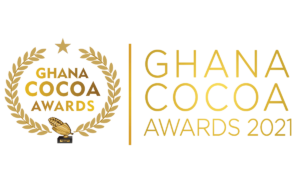 If you are attending the Ghana Cocoa Awards or Cocoa Summit on November 12, please bring your spare eyeglasses and look for the donation box.
For overseas donations, please DM me @docofchoc.
Wait, there's more!
The true heroes of this project are the staff at Dr. Agarwals Eye Hospital in Tesano.
When I began Eyeglasses for Cocoa Farmers, I thought only of getting eyeglasses donated. Thanks to the generosity of Dr. Agarwals, Eyeglasses for Cocoa Farmers is able to do even more: ensure that cocoa farmers get professional evaluation of their eye health, and a treatment plan for any conditions they may have.
Dr. Agarwals will send a team of eye care professionals to Aponoapono on December 3, to provide eye exams for up to 100 cocoa farmers. What charity of spirit!
Thank you, Dr. Agarwals – we could not do this without you.
General health screenings
I also thank the team at Aponoapono CHPS clinic. Their staff will offer general health screenings for attending cocoa farmers on December 3.
The clinic will maintain a file with the results of farmers' eye exams. Most ABOCFA members can access this clinic, so they will always be able to refer to their file.
The clinic will also house the collection of donated eyeglasses. Whenever a farmer visits the clinic, a staff member will check if there is a pair of eyeglasses that matches their prescription. When there is a match, the farmer will receive the donated pair of eyeglasses for free.
Can I help in any other way?
Yes! We are expecting about 500 members of ABOCFA cooperative to turn up for the Farmers' Day event on December 3.
The team at Eyeglasses for Cocoa Farmers would love your support for the following:
Catered lunch boxes for staff from Dr. Agarwals, Aponoapono clinic, and ABOCFA, who will be assisting with admin (approx. 20 lunch boxes)
Snacks and water sachets for estimated 500 farmers
One-day loans, or donations, of basic medical equipment, for the staff at Aponoapono CHPS clinic to conduct general health screenings
Long-term fund to support eye care treatments that cannot be performed on donation day, or that require a farmer to travel to Accra
We look forward to your support. Thank you for making a difference in the lives of Ghana's cocoa farmers
Where do we go from here?
Eyeglasses for Cocoa Farmers will continue to collect eyeglasses after December 3, and will deliver donations periodically to Aponoapono CHPS clinic.
We also seek support for the cocoa farmer treatment fund. We are delighted to announce that we have secured sponsorship from the Ghana Cocoa Awards, the UK-based Cocoa Runners, and private individuals.
Please join these generous companies and individuals who will change the lives of cocoa farmers!
And finally, a heartfelt thank you …
To all our truly amazing sponsors who have solicited eyeglasses donations and offered their space as collection points: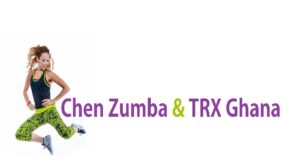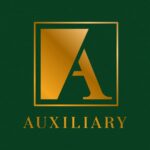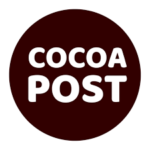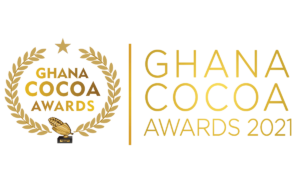 A very special thanks to the ladies of Chen Zumba Ghana classes for their extraordinary generosity in collecting eyeglasses donations.
Follow Dr. Kristy Leissle @docofchoc on Twitter and Instagram to see photos and videos from Donation Day, Farmers' Day, December 3, 2021.