I had the pleasure on Thursday evening of attending what I realized afterwards was my first ever official bar launch. Though I've been studying and working in chocolate for much more than a decade, I'd never been to a new chocolate launch before. And if there are more in my future, the jcoco arabica cherry espresso launch certainly set a high standard for taste and elegance.
Seattle Chocolates is a standout company in this city, and I've always enjoyed their chocolate. The company does a particularly nice job with its truffle bars, which celebrate not only Pacific Northwest ingredients—San Juan Sea Salt, Rainier Cherry—but actual fun. As in, fun things about life. Birthday Cake Batter Milk Chocolate Truffle Bar takes the prize here, whose wrapper comes complete with birthday hat and red balloons. The Thanks-olate bar is an extremely close second.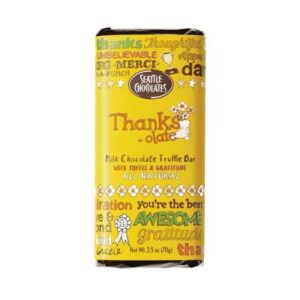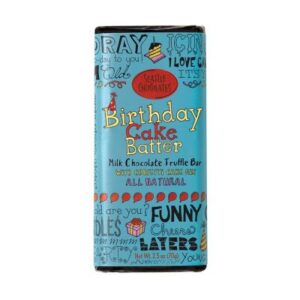 But the launch event was for a bar by jcoco, which is Seattle Chocolates' line of American couture chocolate. The arabica cherry espresso bar is the first-to-market chocolate infused with CoffeeFlour, and we were there to learn what that meant. I do keep an eye on the coffee market, at least from time to time. As primary agricultural commodities, cocoa and coffee share some economic aspects, and it can be useful to compare them. But I don't follow coffee closely, so I was intrigued to learn about CoffeeFlour. Dan Belliveau, formerly with Starbucks and the innovator behind CoffeeFlour, explained it quite nicely, and I'll do my best to re-explain here, though using an analogy I do understand (cocoa!).
Just as chocolate is made from the seed of the cocoa tree, so too is coffee, the drinkable product, made with the seed of the coffee plant. Also as with cocoa, the coffee fruit itself is not the focus; we're only interested in the seed. Coffee does diverge a bit from cocoa here, because its fruit is a little more substantial than that found within a cocoa pod. Coffee fruits look like cherries, and are referred to as such. The fleshy fruit of those cherries is removed to get at the bean inside, and then, to my understanding, becomes exclusively a waste product. CoffeeFlour is doing its best to change that, by making a usable product from that fruit. What they are making is flour.
Chefs around the world have been experimenting with this flour. I read, for example, about the launch of CoffeeFlour bagels in Japan, at Bagel & Bagel, a large chain. Those bagels even have chocolate chips in them! But while it is interesting to read about food innovations, it is even better to taste them. We were quite privileged at the jcoco bar launch to be in the good hands of Chef Jason Wilson (of the former Crush restaurant, which is now a CoffeeFlour lab), who did an extraordinary job in treating us to his CoffeeFlour cooking innovations. I was greeted at the door with a Bacardi rum cocktail infused with jcoco chocolate and CoffeeFlour, and then my gaze fell upon a vast spread of foods, most of them espresso in color, that were all made using CoffeeFlour. Certainly, if the goal was to demonstrate its range and culinary flexibility, Chef Wilson succeeded marvelously.
We had olive fritters with CoffeeFlour ricotta, arabica cherry espresso, and quinoa. There was a pork tostada with arabica cherry espresso mole and salsa fresca. A hit of the evening, from what I overheard in conversations throughout the small dining room, was the arabica cherry espresso glazed beef short rib, bleu cheese, and cauliflower fritter.
It is quite challenging to eat and talk at the same time (or even to eat and listen), and I had a lot of technical questions for Dan Belliveau. But I had already been sorry not to be able to help myself to seconds of the savories, so when we got to the arabica cherry espresso and CoffeeFlour brownie sundae with salted peanut butter and caramel ice cream, I abandoned decorum and ate a whole second sundae while standing at the bar talking with Dan, asking questions through my mouthfuls.
I had a lot of questions because, quite frankly, when you study an agricultural commodity for a long time, you get used to a sameness in the structure of trade, a consistency around what we can accomplish, for better or worse, within a giant and static system. It is rare to encounter innovation on a large scale—such as finding a new food use for a substantial harvest by-product. As wasteful as we may be at this stage in our evolution, humans have demonstrated the capability in our collective past to make extremely efficient use of the edibles that nature provides. So to realize that no one before had thought to make something out of the coffee cherry on an industrial scale, to commercialize it and put it to a range of food uses, was quite surprising and intriguing to me.
One of those uses, of course, is to infuse CoffeeFlour into chocolate, which was the reason behind the launch. jcoco has infused CoffeeFlour and espresso into their arabica cherry espresso bar, and it's the first chocolate to do anything of the kind.
That one is available now to buy. At the launch, however, we were treated to a different tasting as well. We first sampled the base 60% Seattle Chocolates chocolate. Then, we tasted three more bars, all with the same base chocolate, each infused with CoffeeFlour from a different origin: Vietnam, Guatemala, and Nicaragua.
Because I have long been used to tasting single origin chocolate for its varied flavor profiles, it didn't strike me as significant at first when I tasted distinct flavor differences among the bars. But then I realized that, because it was the same chocolate base, the flavor differences were coming from the CoffeeFlour. I was tasting the fruit of the coffee plant. It expresses terroir, too! This felt astonishing to me, but it oughtn't have. I mean, different apples have different flavors; so do actual cherries. Maybe it was because I have no firsthand experience with coffee cherries—I've never held one, never tasted one. But in those chocolate bars, I suddenly became intimate with this fruit. It was a new and unexpected food learning experience for me.
Thanks so much for having me at your lovely launch event, Jean Thompson, Chef Wilson, and Dan Belliveau. I look forward to watching the story of CoffeeFlour further unfold.